As we enter the month of July, we all start to get those long awaited summer vibes. We also get the presentation of the haute couture collections of certain fashion houses in Paris.
New on the scene was the addition – or shall I call it the acceptance – of some ready-to-wear lines like Miu Miu, Rodarte and Proenza Schouler.
Couture is about made-to-measure, perfect craftsmanship and emotion. Ready-to-wear is about industrially-made garments. It does create some confusion as they seem each other's opposite.
But I suppose that doesn't mean they can't show next to each other. If all designers focus on artisanal skills and emotion, it will clear up the fashion sky. The fashion world is in upheaval anyway and is trying to find new means of identifying and presenting themselves to their customers and the general public, so I can only applaud the open-mindedness of the "Chambre Syndicale" to invite more designers for the Couture Week.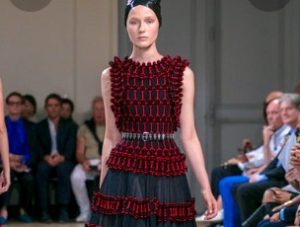 Thus we had newbees on the catwalk but we also had one return that didn't go unnoticed: Azzedine Alaia was back after six years of absence. He has his own unique style, unconcerned by deadlines because he never showed during the fashion calendar in February or September, only when it suited him.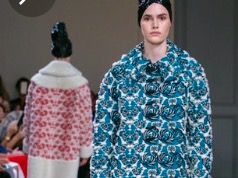 We recognized his silhouette in the body-con short and long dresses with the typical knitwear. New were the decorations and prints on the clothes plus the use of more colours like white, red, green and blue.
His amazing eye for detail came in the black plastic-wrapped headdresses. The models looked like queens reigning in Ancient Egypt – powerful women I mean like Nefertiti and Cleopatra. Naomi Campbell could definitely wear it off.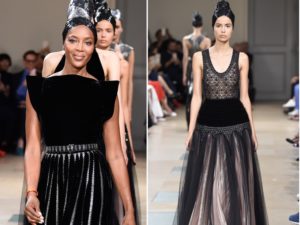 It was a masterpiece of a collection and Alaia was one of the highlights in Paris.
Call it a perfect kick-off for the summer months.
To Be Continued.
TeDe