What I like at this time of year is the cosyness of getting together with loved ones : the domestic bliss of comfort, security and belonging.
That was exactly the theme of an exhibition I went to see in MoMu ( fashion museum in Antwerp, Belgium) : "Rik Wouters & the private utopia".
It put me straight in a festive mood.
The exposition links the contemporary desire to go back to nature, what is called the 'slow' movement, with the revisited interest in artisanal  techniques. As Rik Wouters decided to go and live in the woods with like-minded artists, so decided fashion designers in Antwerp, at the beginning of the 21st century, to have their own independent studios and techniques of craftsmanship, in reaction to the over-industrialisation of fashion.
Let me walk you through a selection of exhibits to see how a conceptual artist and a fashion designer merge in the search for a domesticity in Nature.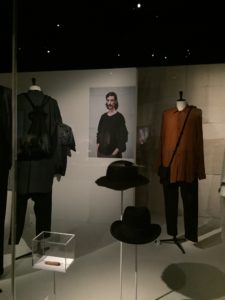 Photo Jan-Jan Van Assche & Collective : SS17, SS16 & AW16-17.
This designer had a utopian outlook. He does only one season a year, creates a series of garments with small variations that fit together, and combines them to make layered clothing. The silhouettes give a nonchalant feel : he creates textiles that become a second skin and fuse with the wearer and their life.
Rik Wouters enherited a love for landscapes from Renoir, whose work he saw in Paris. His scenes bring the outside and inside world together : flowers are placed in a vase or are pictured in the garden. They're a symbol of the beauty of nature.
When I think of flowers and fashion, I see Dries Van Noten. His SS 2001 hand-painted flower motif on a printed silk crepe dress and silk jacket were a beauty to watch and to touch, and definitely wearable whether you go out or stay in.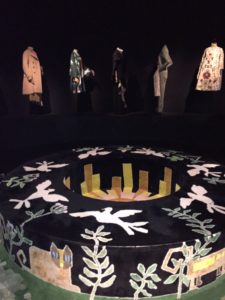 I really enjoyed the installation of Dirk Van Saene, an original member of the Antwerp Six, who gives an overview of his career on the basis of fifteen silhouettes. He is a perfect example of a fashion designer who follows his own path in terms of collections, shows and seasons, and sells where and whenever he chooses. He's been a one-man business since 1982. His sources of inspiration are the work of Louise Bourgeois , the documentary  "Grey Gardens", tribal motifs or masks and the world of haute couture : bows, embroidery and trompe l'oeil motifs.
His creations are an ongoing process of original fashion art.
Wouter's images of domestic bliss shows Nel (his wife) in a variety of daily activities : ironing, playing with the cat or sewing.
SS16; silk crepe dress with bustier in crochet and knotted cotton.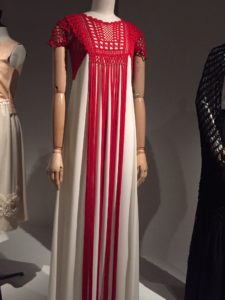 The Antwerp designer Veronique Branquino similarly makes coy references to 1970s fashion, a world away from contemporary fashion, when handicrafts such as macrame and knitting were very in.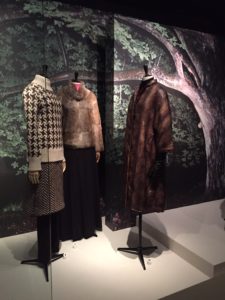 Here she goes back to nature, specifically the woods. The wood is the setting for the haunted woman that VB expresses in her collections : the dark birch wood that fascinates as much as it terrifies, offering a hiding place that cannot bear the light of day.AW 2000-01, AW 98-99, AW 2009-10 Into the wood. Pre-fall 16 & AW 98-99 Black & white in the forest.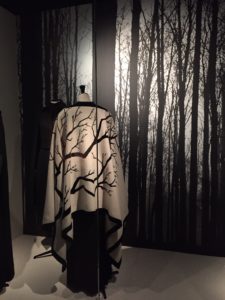 My last choice will be the utopian idea of a better, slower future embodied by Belgian designer Bruno Pieters and his label "Honest by Bruno Pieters" . Consumers can see how his garments are manufactured, from the original base materials to the hours worked on it. Pieters does not want to turn his back on the fashion world but wants to show that change is possible; all resources are produced sustainably. Furthermore, it serves as a platform for new talent as he invites young designers to collaborate on a collection that corresponds with his vegan lifestyle. Examples include the wood fibre shoes by Mats Rombauts and the 3D-printed sneakers by Comme des Machines.Rombaut SS16 & AW 16-17 Comme des Machines. Utopia-Bruno Pieters Honest By.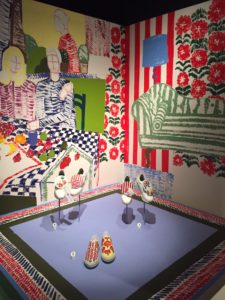 I thought the presentation of this exhibition was excellently done, fresh proof of how fashion meets art. The artist and fashion designers embraced pure domestic life in tandem with nature. Home sweet home comes to mind. Because, in essence, that's where we all go back.
To be continued.
TeDe.