When I spent july in the city, meaning New York, visiting the summer exhibition in the Met is part of it.
This summer, I was thrilled to go and see, feel, explore " Rei Kawakubo/Comme des Garçons Art of the In-Between".
She is the first living female designer since YSL ( in 1983) to be the subject of the Met Museum annual exhibition in the Costume Institute.
Since 1969, year after year, season after season, collection after collection she provoques and stimulates our awareness of the fashionable body through her clothes.
At the heart of her work are the koan "mu"(emptiness) and "ma"(space), which coexists in the concept of the "in-between".
What happens in between ?
That's what her exhibition is about : she examines nine expressions of "in-betweenness".
In all honesty, as I was walking through the nine presentations, I was sometimes lost for words or I didn't get it at all.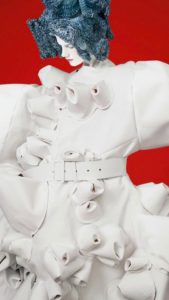 Let me explain :
– In observing "fashion/Antifashion" , the clothes were principally black, unconventional creations , outsized and shape-less.
My first reaction was : this can't be fashion, as the garments don't look very wearable or even flattering on a body?
But for her these loose garments create space between skin and fabric.
– when looking at "Model/Multiple" a set of skirts are featured here. At a first glanze, they look the same but when you take a closer look you see subtle changes in color, fabric and shape.She creates uniformity on the one hand but on the other hand each skirt is original and individual. There seems to be not much space in between uniqueness and mass-production.
– one of my favourites was "Self/Other" in which she explores the boundaries of gender identity.
It fuses the clothes typical for men and women into one outfit.There is nothing in between anymore, this new created garment can be worn by both sexes. Or do we have a new type of unisex ?
-the exhibition concludes with "Bound/Unbound".
It's beautiful to observe how these pieces bind the body but they unbind, set free the body culturally.As she explained once : " I work around the figure, but I am never limited by what the figure has to be".
Again here , there is space for thinking that the dressed figure is free of bounded definitions of the idealised perfect female body.These thoughts feed the art of the in-between options.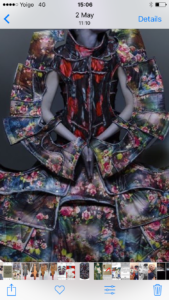 It was a very intense observation of Mrs Kawakubo 's explanations and conclusions with reference to this selection of her collections.She insists that her work deals with her " feelings, instincts, doubts and fears." And I could sense that.There was mainly a lot of personal opinions and emotions involved.
But in the end, that's what it's all about.
You don't need to get it ( her way). Let your imagination of interpretation flow.
See it your way. Embrace the feeling of interpretation it evoques.
It will only encourage Mrs Kawakubo to continue her journey of the "in-betweenness".
If you like that, I suggest you go and explore before it ends on Sep 4.
To be continued…
TeDe
Trees