It's the New Year. A new you. A new view. And it's also January, the only month we are not looking forward too. Our focus is on our resolutions list or some of us disappear in detox land.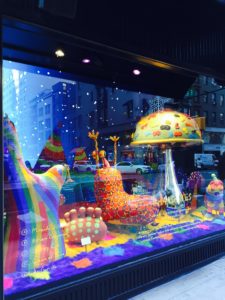 However, I try to enjoy the first month of the year looking back at the festive season, not at the abandoned Christmas trees on the streets but at the window displays in the stores. The stores always make a huge effort for Christmas (until the sales signs scream at your eyes).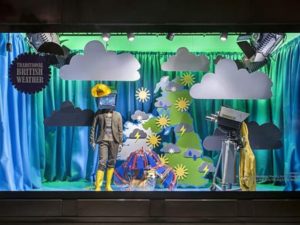 But it's not only this time; all year round I enjoy the window displays. I have a soft spot for the window dresser and I think it's a magnificent craftsmanship. They are true artists. Whether it's a new collection, the spring season, a theme or a collab, they create beautiful presentations.
I remember, when I was at secondary school, a few of my girlfriends followed a course called 'etalage making'. I was always curious to find out what they did with the props and the colorful mood boards that they brought in. Every Friday I went to the top floor studio to discover and admire their mysterious displays.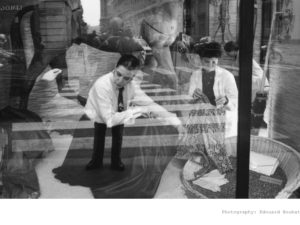 A lady who represents this profession accordingly is Madame Leila Menchari, " Queen of Enchantment". An exhibition at the Grand Palais in Paris last year was dedicated to her. She was the flamboyant window display artist at Hermes for over 35 years. About her job she said : "I have always loved storytelling. And there, that's all I do."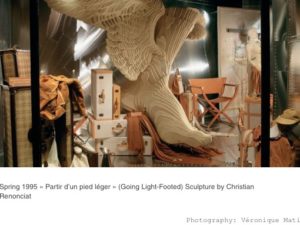 I agree. Window dressers give us free entrance to their imagination by telling us a (their) story. They share their dreams in reality. They feed us constantly with magic works and welcome us in their fantasy emporium. Have you ever discovered yourself smiling while admiring an 'etalage' ? I have, because they take you on a journey. They bewilder us. We live in a global community of instant experiences. I think this display still satisfies this need. I'll never get enough of them!
To be continued…
TeDe
Pic 1 : modern shapes & shades for Christmas 2018 @Barneys NYC
Pic 2 : British sense of humour display
Pic 3 : Madame Leila Menchari in her workspace
Pic 4 : the use of colours & materials @ the Hermes flagship store here in Paris represents chique, solid garments